1.  Yesterday morning, the BOY and I went for a walk before work.  It all began after the BOY talked to a friend of his who basically told him if he wants to eat and drink like he does, he has to get up and run before work every morning.  Which got the BOY wondering if a morning walk could help 'boost' his metabolism.  After being sick and on the couch for over a week, I was eager to get back to exercise but knew a run wouldn't be in the cards.  I am still pretty run down.  So I volunteered to keep the BOY company on his first walk, which was a fun way to start our day together.
2.  We talked about going for our second walk this morning, but we slept in instead.  I am EXHAUSTED!
3.  I have been doing a lot of online looking/shopping for dresses for all of the upcoming wedding fun.  Don't you think I'd look adorable in this one from Anthro?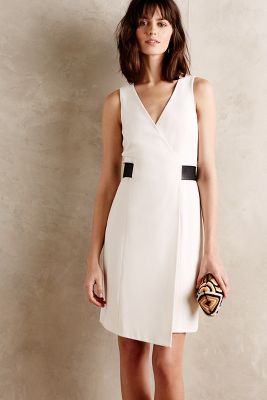 4.  OMG!  I am running a 10 miler in 1 week and so not prepared.  I did make it to work a few days this week, but I have been wiped out!
5. We are off to Wisconsin this weekend for a quiet overnight get away.  I am hoping that we can swing by Madison on our way up to check out their incredible farmer's market.  Hooray for Wisconsin beer!!!
What are your weekend plans?